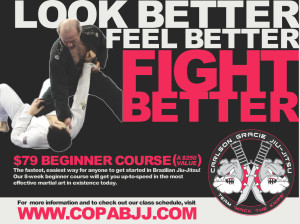 This is our acclaimed BJJ Beginner Course curriculum, available now for registration. In 16 classes over 8 weeks, you will learn the most critical concepts and techniques of the highly-effective art of Brazilian Jiu-Jitsu from a Competition/MMA as well as a Self Defense perspective. This course is designed for those with no grappling experience, so you will all learn from the ground up. Tuesdays/Thursdays from 8-9pm.
Student registration is limited to ensure safety and quality instruction.
Register online below or Ask a Question!