Copa Jiu-Jitsu provides a one-of-a-kind blend of physical conditioning and practical self-defense in a supportive and fun environment. One student chose to document his experience with our methodology over 60 days to see how quickly our system produces results. These are his unedited journal entries.
Week 2
Weight: 244lbs
As promised, I'm going to discuss how diet will play a part in the weight-loss challenge. This was tough for me, because I'm really not sure I've ever learned how to eat properly. As a kid, I was rail-thin, and could eat pretty much whatever I wanted whenever I wanted, and not gain an ounce. As I worked my way through my 20's, my eating habits remained the same while my waistline expanded. Exercise helped, but it couldn't remedy the effects of what I was putting my body through due to poor dietary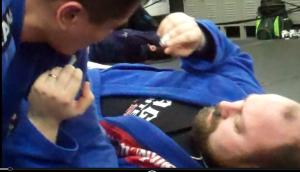 choices. I've tried Weight Watchers a few times, but found that the constant "point counting" and measuring was tiresome, and didn't really change what sort of foods I was choosing to eat. I also tried several New Year's resolution diets, where I'd do great for a week or two, making all my own rabbit food. This would ultimately end miserably when I'd return home from work after a tough day and grab my phone and credit card and order out.