Copa Jiu-Jitsu provides a one-of-a-kind blend of physical conditioning and practical self-defense in a supportive and fun environment. One student chose to document his experience with our methodology over 60 days to see how quickly our system produces results. These are his unedited journal entries.
Starting Weight, 254 lbs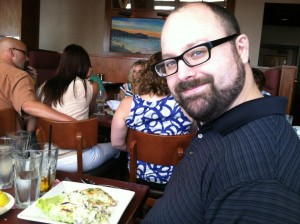 At the beginning of the New Year, I was approached by Copa BJJ coaches Jim Neitzel and Mark "Mack the Knife" Daley to consider a proposition: commit to training Brazilian Jiu-Jitsu at least 3 times per week while maintaining a healthy diet for a total of 60 days. The purpose of this experiment was to gauge how effective Brazilian Jiu-Jitsu is in helping individuals lose unwanted weight (gimmick free: just a healthy diet and hard training).
My guess is that I was selected for a couple of reasons—first, I had been out of the gym for a couple of months due to a family tragedy and the constraints of my job. Second, as a result of being away from the gym, I had put on several extra pounds that I was not at all happy about. Mack and Jim asked me how much I weighed, and more importantly, how much I wanted to weigh. I told them I was walking around at between 250-260 lbs, but as I am only 5' 11", I would like to get down to 200lbs at some point. Jim told me about a company that shares space in the gym our jiu-jitsu school operates out of (Quads Gym) called "DexaFit". As Jim explained it, DexaFit uses state of the art imaging technology to provide a comprehensive breakdown of one's body composition. This imaging technology has been used by professional athletes and weekend warriors alike to educate them on how muscle mass is distributed through their bodies, what percentage of their mass is stored as fat, and even measures bone density levels. Jim stated that Copa BJJ wanted to partner with DexaFit to do a "Before and After" experiment, where I got to be the guinea pig. As someone who wanted nothing more than the right motivation to shed pounds, I jumped at the opportunity.