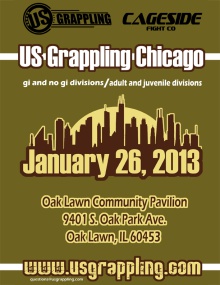 The Copa Jiu-Jitsu competition team had a successful day at the U.S. Grappling Chicago tournament, Jan. 26, in Oak Lawn, Ill., winning 15 medals, including four gold medals, seven silvers, and four bronzes. Several competitors won their first gold medals under the Copa Jiu-Jitsu banner, including blue belt Milos Petrovic and white belt Ian Lue. Congratulations to the fighters.
Copa Jiu-Jitsu placed 3rd of over 30 academies in total medal points, fueling Carlson Gracie Team to another First Place Team trophy!
We look forward to watching the Copa Jiu-Jitsu team at the 2013 IBJJF Chicago Winter Open on March 9!
See below for a complete listing of Copa Jiu-Jitsu U.S. Grappling winners.