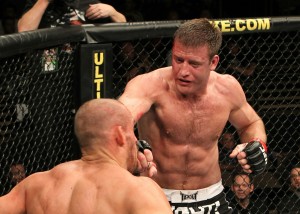 Feb 1, 2014: UFC Star and Hall of Famer Stephan Bonnar will be at Copa Jiu-Jitsu to share some of his favoite Octagon techniques and strategies.
Bonnar was the runner-up in The Ultimate Fighter, Season 1. His legendary match against Forrest Griffin is considered the most important fight in UFC history. Copa's very own Mark "Mack the Knife" Daley was in his corner for the fight rematch in UFC 62.
Time: Registration: 1:00pm-1:30pm
Seminar: 1:30pm-3:30pm
Where: Quads Gym (3727 N Broadway) Street parking available
Cost: $60
Pre-registration is closed! Registration is now $60 at the door!